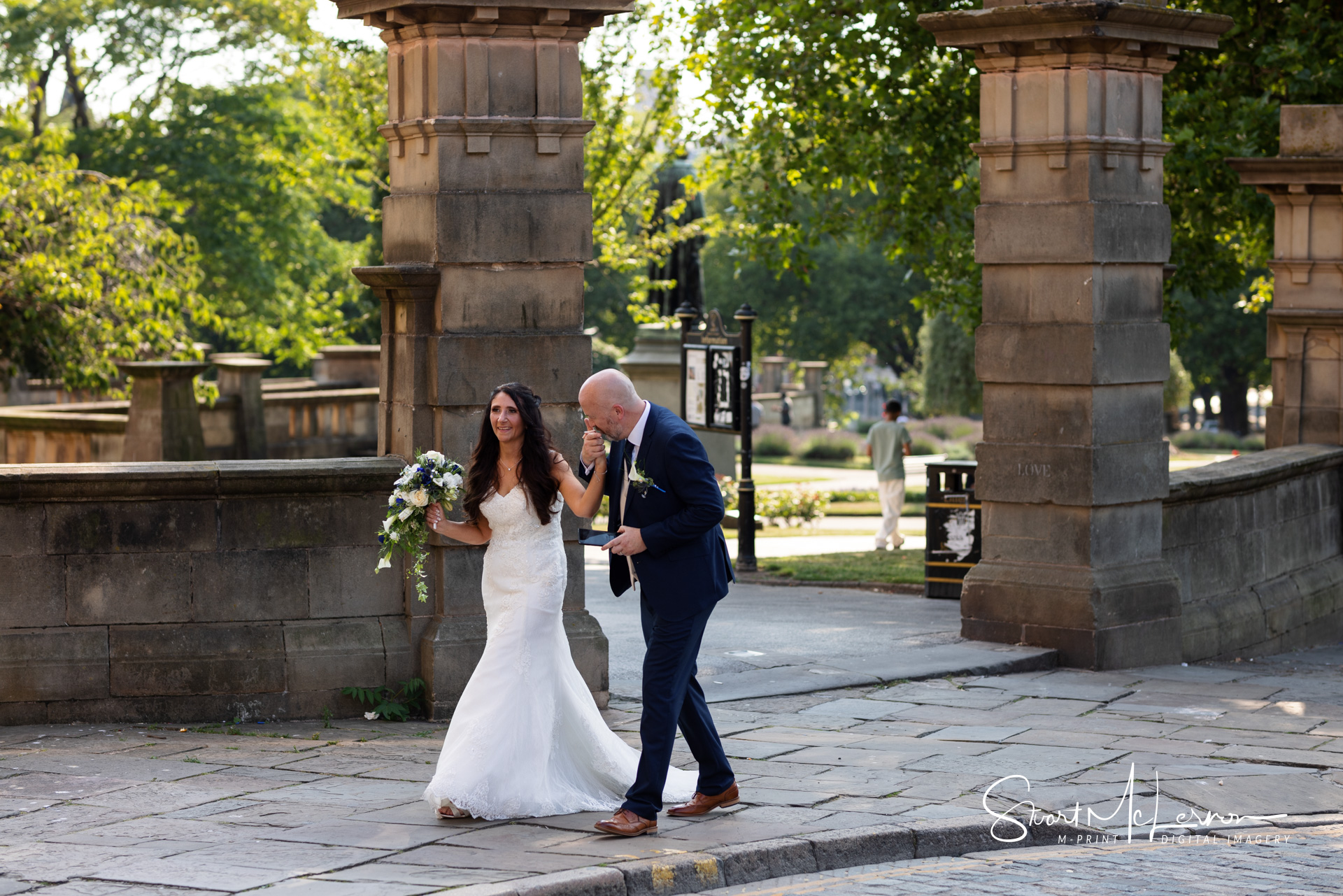 Sharon first got in contact with me back in January 2022, having browsed through a lot of photographers on the Hitched platform. We had a brief conversation on the phone following her initial enquiry and I was pleased to have stood out from the crowd. Within a couple of days Sharon and Will booked me to be their St. George's Hall wedding photographer. I love shooting at venues I've not shot at before and St. George's Hall in Liverpool merited a visit before their special day to meet up with Sharon and see what all the fuss was about. This venue did not disappoint, as beyond the many neoclassical stone columns lay a beautifully opulent interior with many fine spaces. Sharon and Will chose the Concert Room – a circular space with Victorian features and crowned with a crystal chandelier.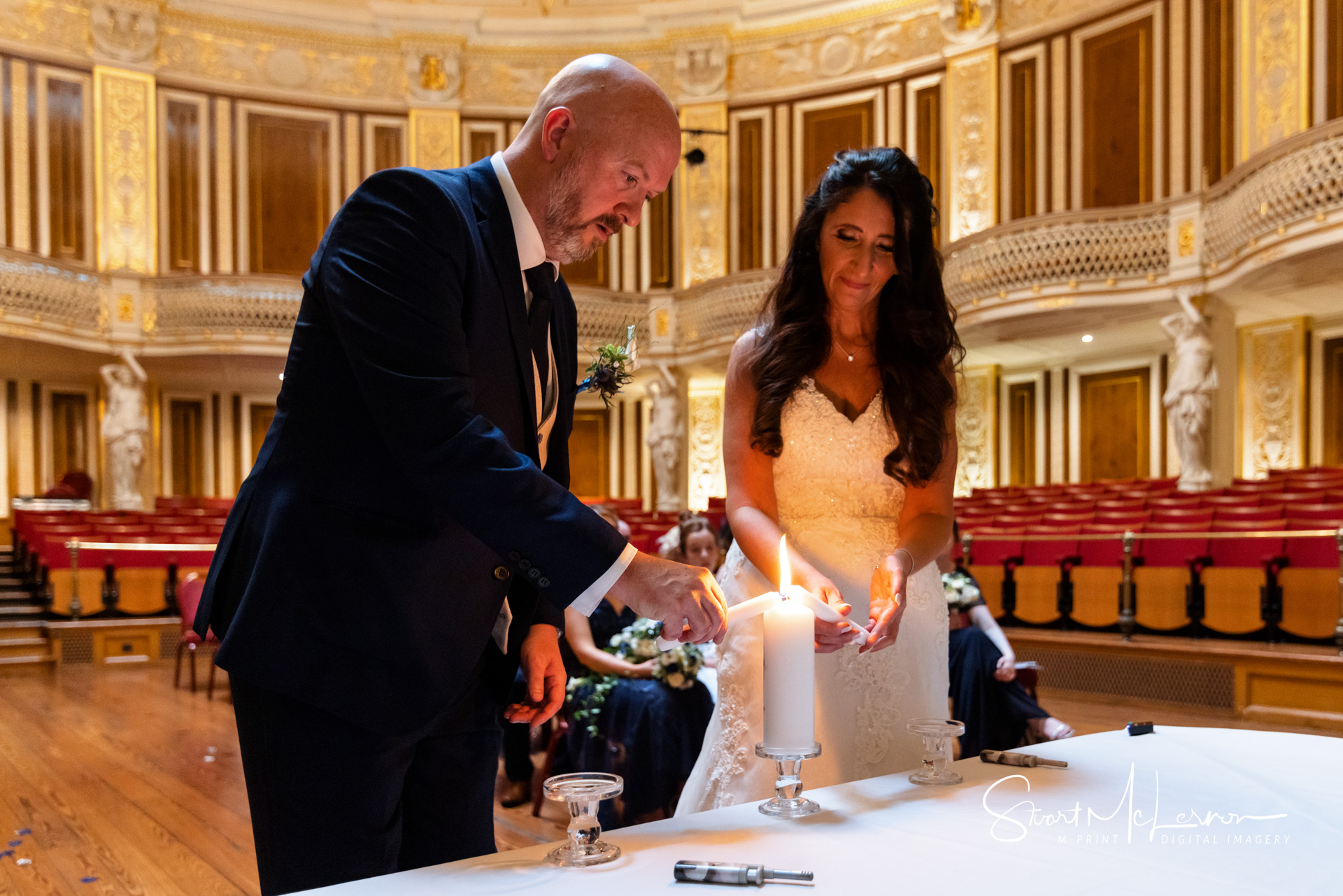 As usual, I sent my trusty assistant Rick to cover the groom prep at The Radisson Blu Hotel in Liverpool. Will had 4 groomsmen for company and once dressed they headed out to the local Wetherspoons to calm those pre-wedding nerves. I made my way over to Sharon's house to cover her prep. The house was bustling with activity as she had a maid of honour, two bridesmaids and 2 flower girls in various states of excitement along with the hair and makeup people. I possibly had the better deal than Rick as there was a large buffet spread and I may have had a sausage roll (or six) to keep up my energy on this hot summery day. The UK had been bathed in a week-long heatwave with the mercury tipping the scales at 31° C. Thankfully, one of Sharon's neighbours brought over a portable AC unit so we could all keep our cool during the prep time. I believe the groom's team kept cool with liquid methods.
It was soon time to head out for the ceremony. Sharon and Will are both avid Everton FC supporters and it was no surprise that Sharon's wedding car made a small diversion past Goodison Park en-route to St. George's Hall. The venue provided adequate shelter from the sweltering heat with it's light, airy spaces. A special mention to the staff who's service and attention to detail was second-to-none, providing easy parking for us, helping with the kit and making us feel that nothing was too much trouble. Will was overcome with emotion when he saw Sharon making her way up the aisle but managed to compose himself as she finished her walk. They added a candle-lighting ceremony to welcome one of their daughters and their vows were heartfelt before sealing the deal with rings and a passionate kiss.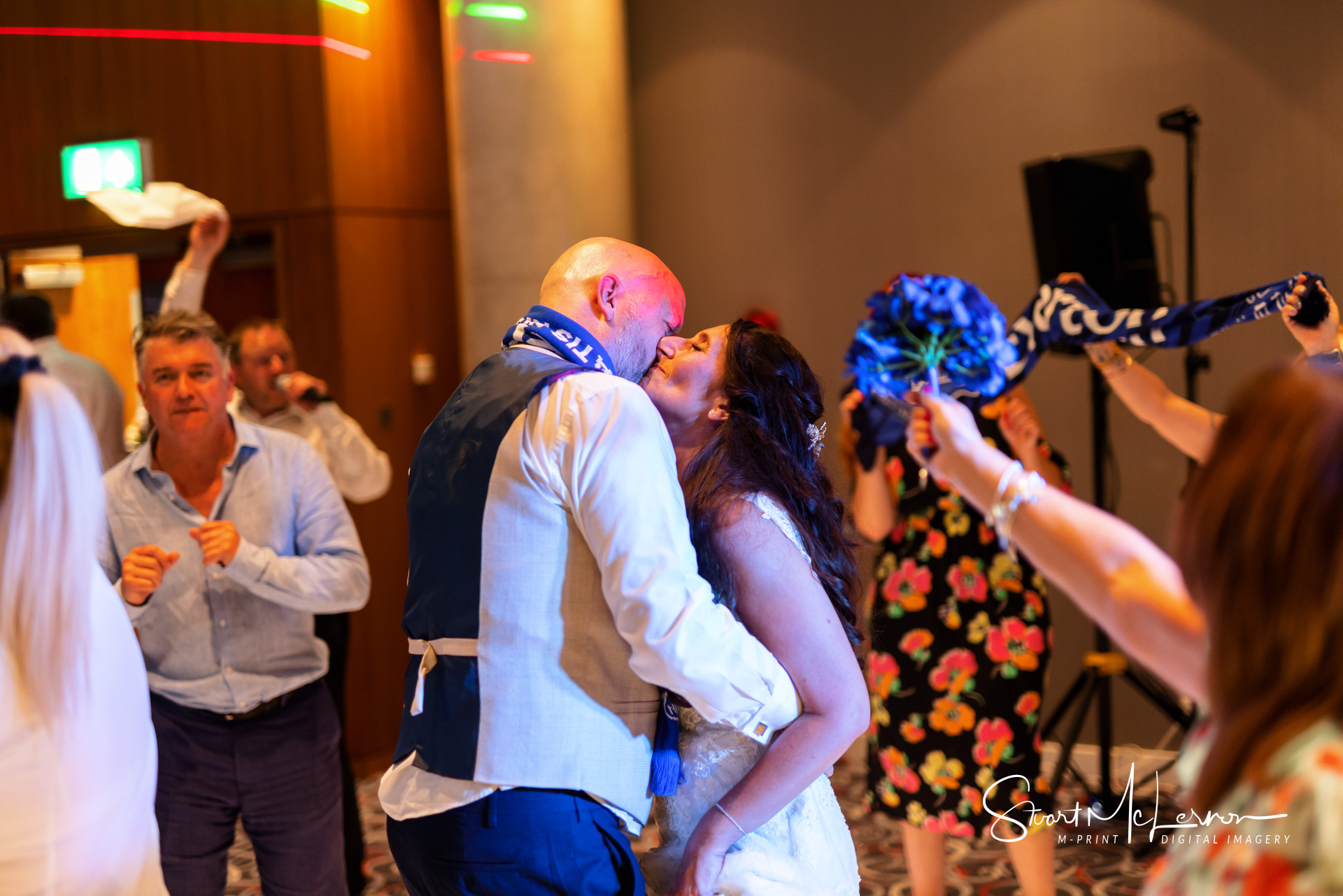 St. George's Hall Liverpool Wedding Photographer
With the confetti done outside the building it was on to the formals, which were brief due to the intense afternoon heat. The wedding party then made their way to the Radisson Blu Liverpool hotel for the evening celebrations. What form of transport? A double-decker bus covered in Everton FC livery! The groom got a decent roasting from the best man during his speech but it was all good natured. The buffet commenced and the dancing was started with the introduction of singing waiters. The evening atmosphere was fantastic and it was apparent that Sharon and Will are a couple that are simply meant to be. I enjoyed being a part of their day and I wish them every happiness for the future ahead.
If you are getting married and looking for a St. George's Hall Liverpool wedding photographer, please don't hesitate to drop me a message…