Stockport Town Hall is a beautiful Grade II listed building. It has a striking clock tower, historically known as 'The Wedding Cake'. It is the perfect venue for your wedding photography. The stunning renaissance architecture and the spectacular Marble Staircase, provides an unrivalled backdrop for your celebrations. Stockport Town Hall has a variety of different rooms and areas to get married and have your reception in. You can view each room as well as explore the inside of Stockport Town Hall on Google Street View. There are a wide range of wedding spaces to hold the ceremony that's perfect for you.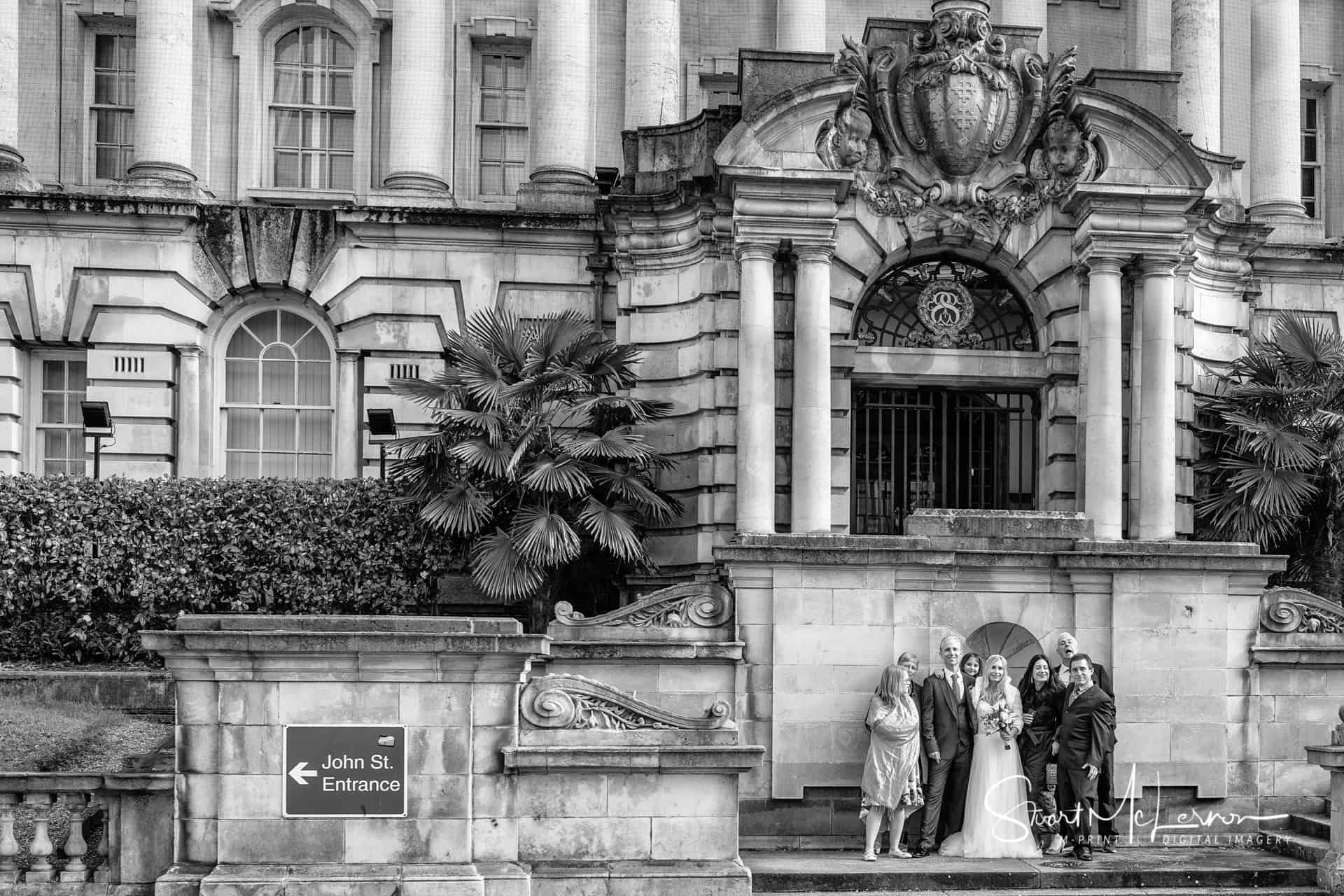 Wedding Spaces at Stockport Town Hall
The Henry Bell Room replaced the Robert Hyde Room as the statutory room. The room has been tastefully decorated and furnished and is the ideal statutory room for very small parties.
Next up, The Robert Hyde Ceremony Room offers beautiful surroundings in which to get married. It is a perfect setting for friends and family to savour the moment. The room has been tastefully decorated and furnished and is ideal for small parties of up to 16 people.
The Sir A. Brumwell Thomas Room within the Stockport Register Office offers beautiful surroundings in which to get married. It is a perfect setting for friends and family to savour the moment. Seating up to 55 people, the Sir A Brumwell Thomas Room is air-conditioned, tastefully furnished and decorated with a magnificent chandelier hanging from the barrel roof. The room also incorporates a built-in sound system which includes a loop hearing facility.
A sweeping double staircase at the heart of the Town Hall crafted with marble imported from Sicily at the turn of the last century. The Marble Staircase is a breath-taking ceremony space, with the option of saying 'I do' in front of loved ones either at the bottom or the middle platform of the stairs. The Marble Staircase also offers a stunning backdrop for memorable wedding photographs and is a unique drinks reception area. Suitable for a Wedding Ceremony of up to 70 guests.
The Council chamber is a beautiful semi-circular ceremonial room with a high domed ceiling and four stained glass windows. With intricately carved leather upholstered seating and a double aisle for your wedding party to make a dramatic entrance, the Council Chamber is perfect for Wedding Ceremonies of up to 150 guests.
Then there's the Committee Suite – a suite of characteristic and sophisticated oak panelled rooms, each with stained glass windows, domed ceilings and extravagant chandeliers. The three Committee Rooms are available separately or as one large room for ceremonies of up to 100 people. As part of a Wedding Package, the Committee Suite would be your Wedding Breakfast and/or Evening Reception room for up to 108 guests.
Finally, occupying a third of the area of the Town Hall, the Edwardian Ballroom is a spectacular large and versatile space, suitable for wedding breakfasts and receptions of between 100 to 500 guests. Both spacious and opulent, natural daylight floods into the Ballroom from nine huge stained glass windows which line the East side the room. Beautiful chandeliers suspended from the vast arched ceiling combined with coloured LED lighting to compliment your chosen colour scheme will make a lasting impression on your wedding guests.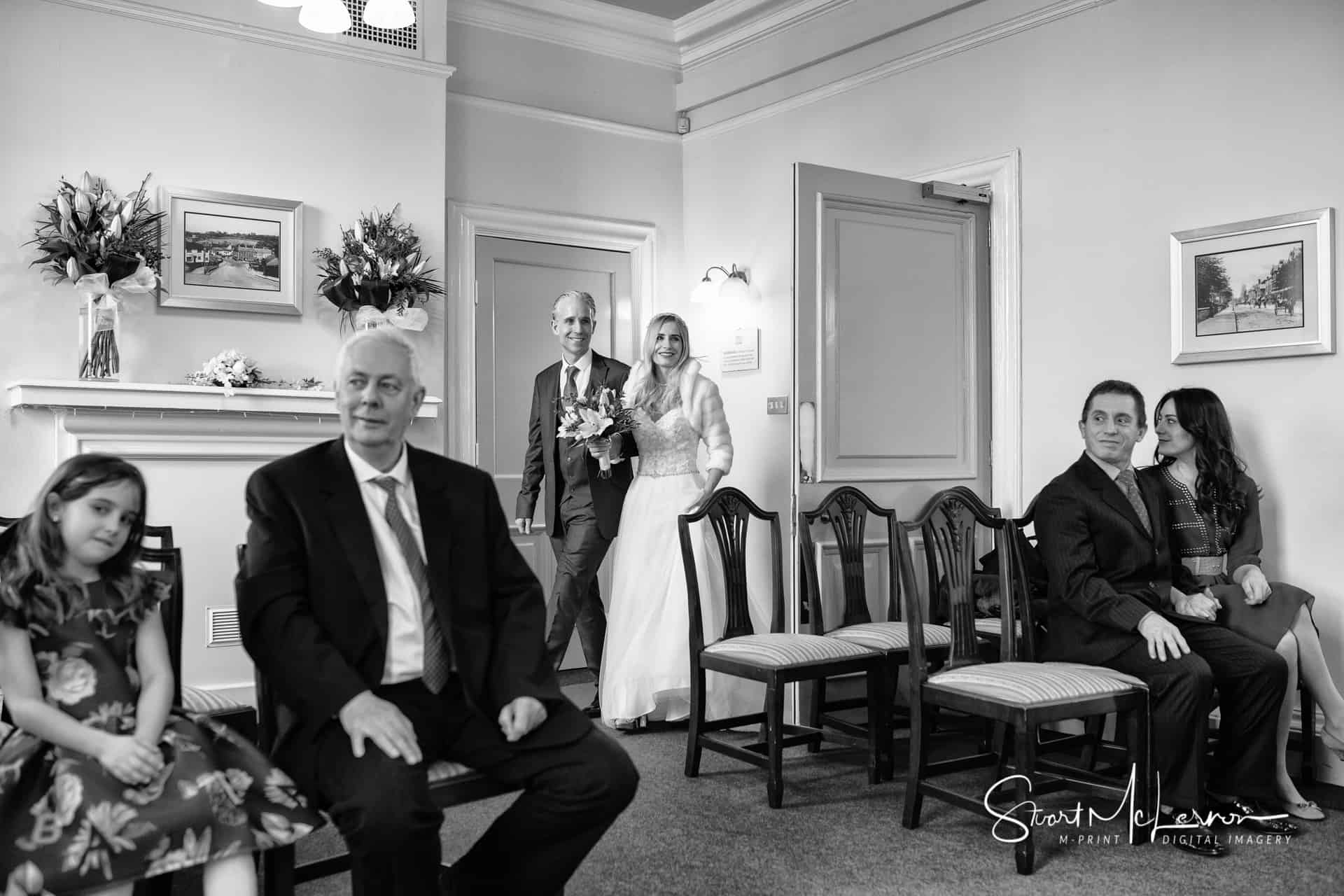 Are you getting married at Stockport Town Hall?
If you have chosen Stockport Town Hall for your wedding, then congratulations! You have chosen a beautiful venue and I know you will have an amazing day. If you have any questions at all about wedding photography or if you would like to find out more details about the packages that I offer, please do not hesitate to contact me and I will reply to you as soon as I am able.