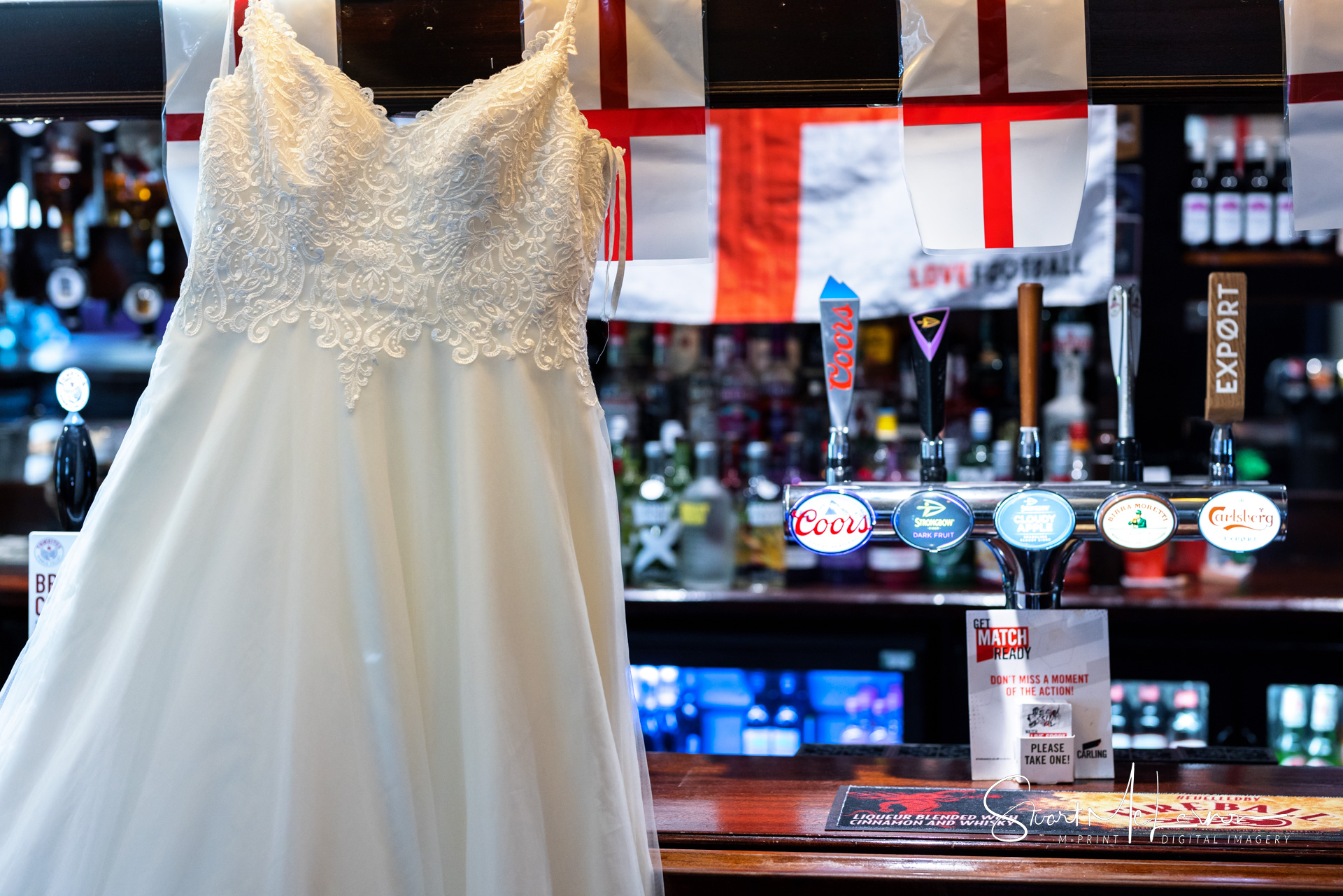 As you can see from this first image, the bride (and groom) run a popular public house in Rossendale together and I was contacted just two months before their date to see if I could be their Hilltop Barn wedding photographer. As luck had it I was available for their date and we arranged a meeting at their pub to run through the details. I was greeted with a pint of Guinness (thank-you!) and we formed a plan together to accommodate their wishes. It's fair to say that both Nicola and Matt were apprehensive about being photographed but I assured them that my shooting style and personal demeanour would ease this process from myself and Rick.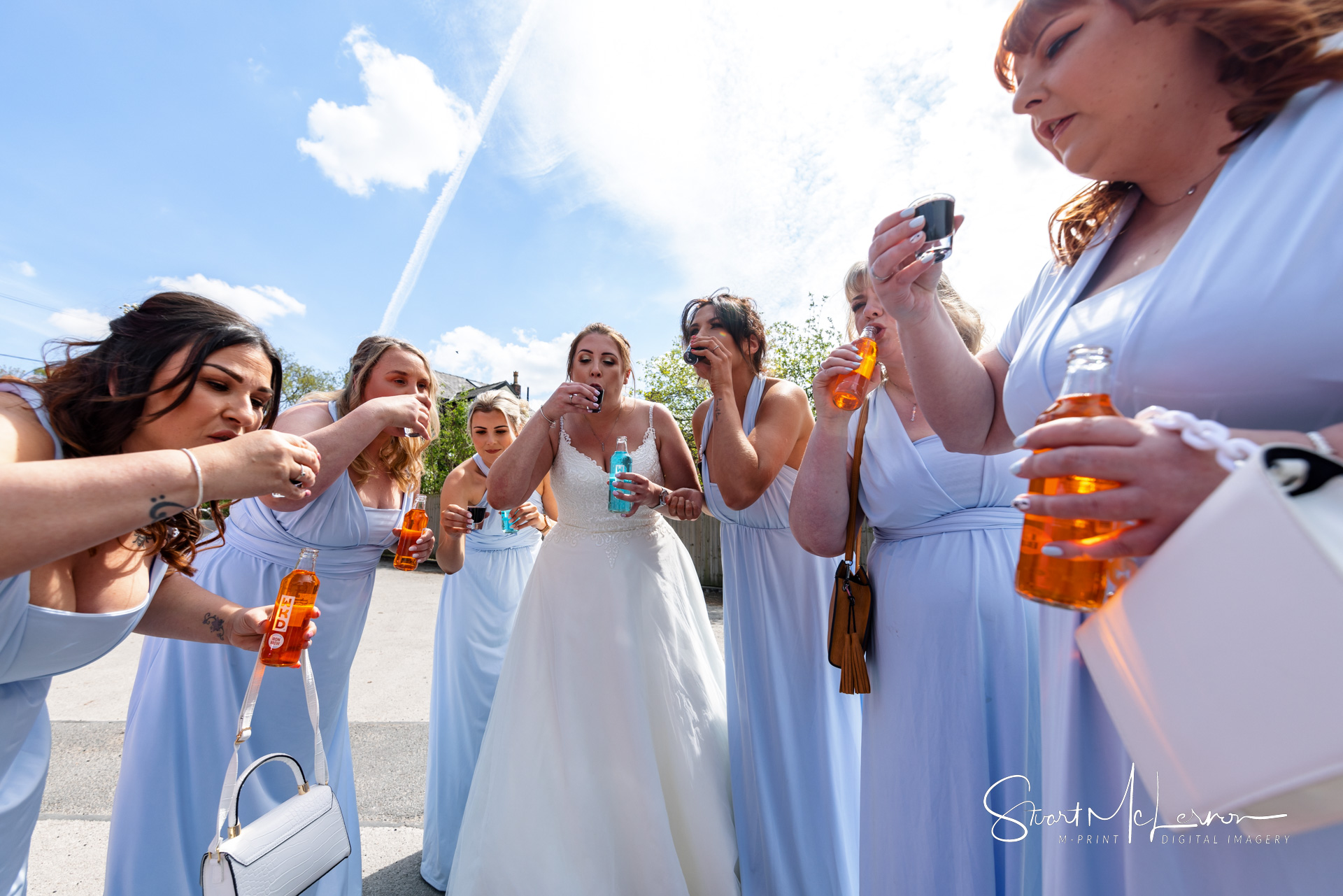 Hilltop Barn Poynton Wedding Photographer
I made my way over to the Station Hotel where Nicola and her six bridesmaids were all getting ready. The morning started quietly but once the ice was broken everybody relaxed and I was able to capture some more natural shots rather than deliberately posed images. The laughter broke out when the ladies lined up outside the pub in their dressing gowns, much to the amusement of the passing traffic! One of the bridesmaids had surprised Nicola by booking a stretched pink limousine to take everybody to Hilltop Barn. The ladies made a quick stop at The Boar's Head pub in Higher Poynton where they had a shot. It should be pointed out that the gents were at the same pub 30 minutes earlier but choosing beer over shots. Then it was a drive up the long path leading to the barn (the gents walked this path).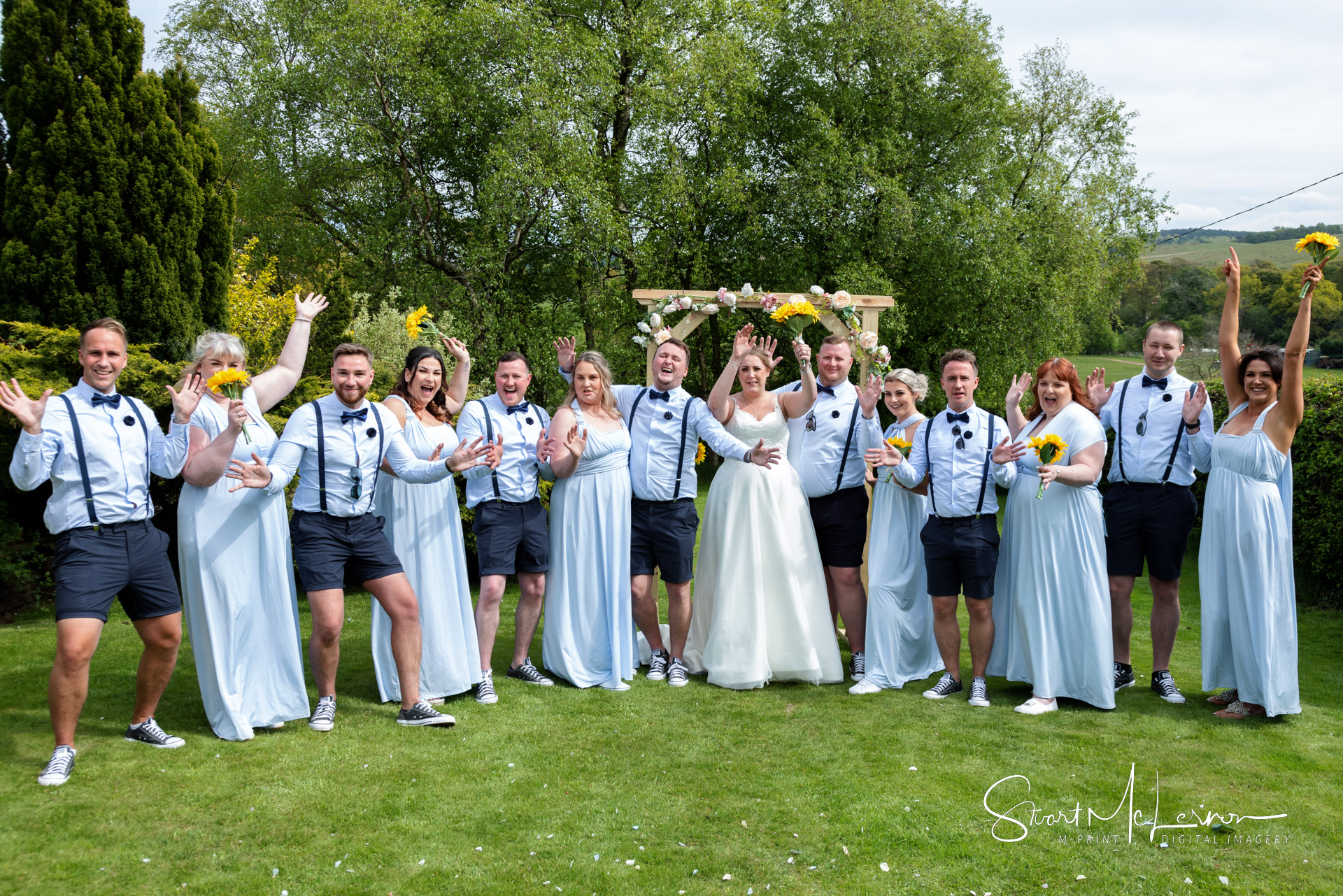 The groom and his groomsmen were wearing shorts, braces and bow ties which seemed appropriate given the warm weather. The outdoor ceremony was perfect, relaxed, yet infused with laughter, led by the charismatic Cate from Pink and Ginger Ceremonies. Once the formalities were completed, we grabbed the group photos and then it was straight into the barn for their wedding breakfast. We love dining with the guests and we were seated with members of a band called Beaver who entertained with some great rock covers. The speeches followed the food which to be fair subjected Matt to quite the roasting but it was all good-natured. The room was turned around for the evening guests and the live music got the party going into the night. Nicola and Matt's day was a departure from traditional wedding celebrations but boy was it fun – bring on the next one!
If you are getting married and looking for a Hilltop Barn Poynton Wedding Photographer, please don't hesitate to drop me a message…