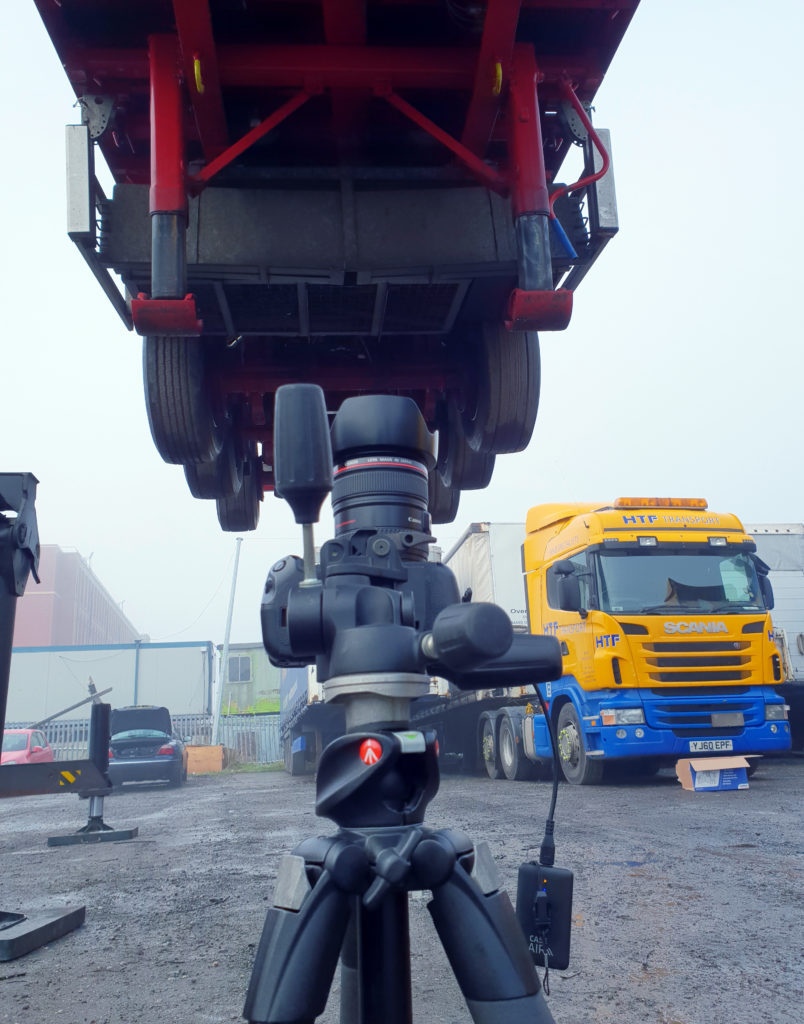 Suspending a trailer from a HIAB on a foggy January morning in order to photograph it from underneath is one of the more unusual briefs I've been given. However it was the final step towards completing a show stand design for Nationwide Transport Breakdown Services for this year's CV Show 2019 at the Birmingham NEC. Each year we try to innovate with new ideas and take a clean sheet approach to the design. This year's stand had a ceiling panel so what better to look up at than the underside of a trailer? The phrase "it's better when you tether" was certainly true here as the pictures were shot remotely and stitched together to create a 120 megapixel image – not bad work for a 21 megapixel camera!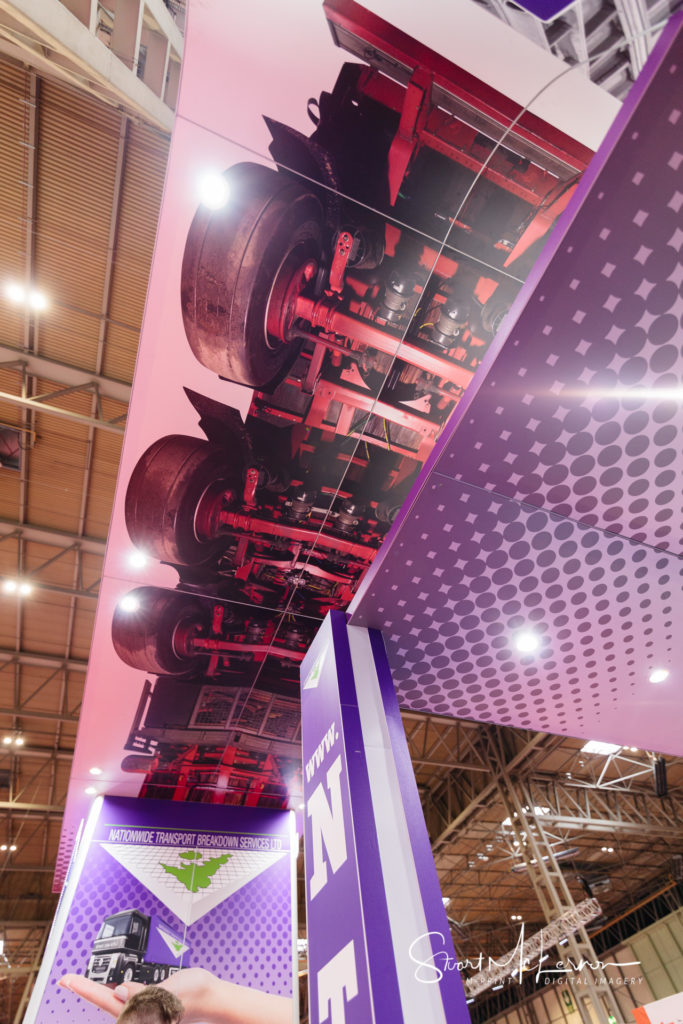 Fast-forward a few months and the image becomes a centrepiece to the impressive stand at the CV Show 2019 at the NEC Birmingham. Nobody usually looks up at an indoor event but people were seen pointing at the details on the underside of the trailer. It's just a view that you don't normally see. With the design stage completed, I was invited by the team at Nationwide Transport Breakdown Services to the NEC to photograph their stand at the CV Show for the 3rd year running. This is testament to the virtues of doing a good job – getting repeat business.
NEC Event Photography
Building on from last year's success, we built on our image bank by visiting some agents across the North West to take some still images along with motion video to create high resolution visuals along with some filmed sequences for the large TV's, adding some dynamic graphics to present NTBS' services in a simple but effective format.
Travelling first class by train to and from Birmingham enabled me to carry my gear in comfort. It's always good to check-in the evening before to relax with clients and discuss shooting ideas before the live event. NTBS were very gracious to provide a great meal, plenty to drink and hotel accommodation to ensure I was settled in and ready to shoot the following morning.
A busy stand, great people, plenty of new and existing customers. The perfect ingredients for a successful CV Show 2019. Can't wait for next year!
More images from my time at the CV Show 2019 can be found in the gallery HERE
See also CV Show 2018 and CV Show 2017