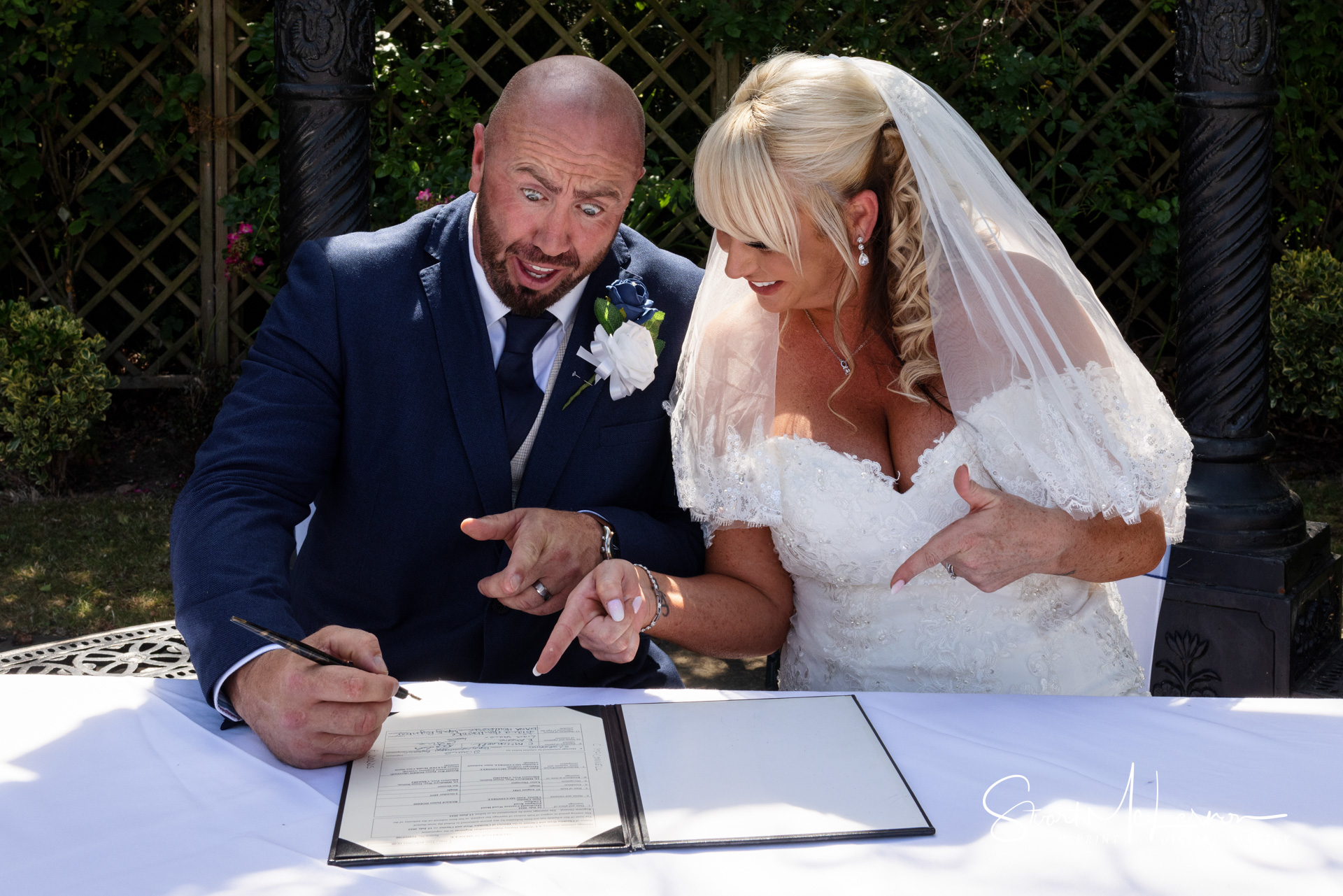 Christy and Ritchie chose The Craxton Wood Hotel near Ellesmere Port for their special day. Christy contacted me via my website enquiry form to see if I was available on their date. We exchanged a few messages to establish what was needed before they chose me as their Craxton Wood Hotel Wedding Photographer. They had opted for 3 hours coverage and I was invited to meet with them to discuss the wedding photographer requirements for their day. Ritchie bought me a Guinness (thank-you) and as we sat in the sunshine together it became immediately apparent that these two are about fun and laughter. The first picture above just hints at their personalities!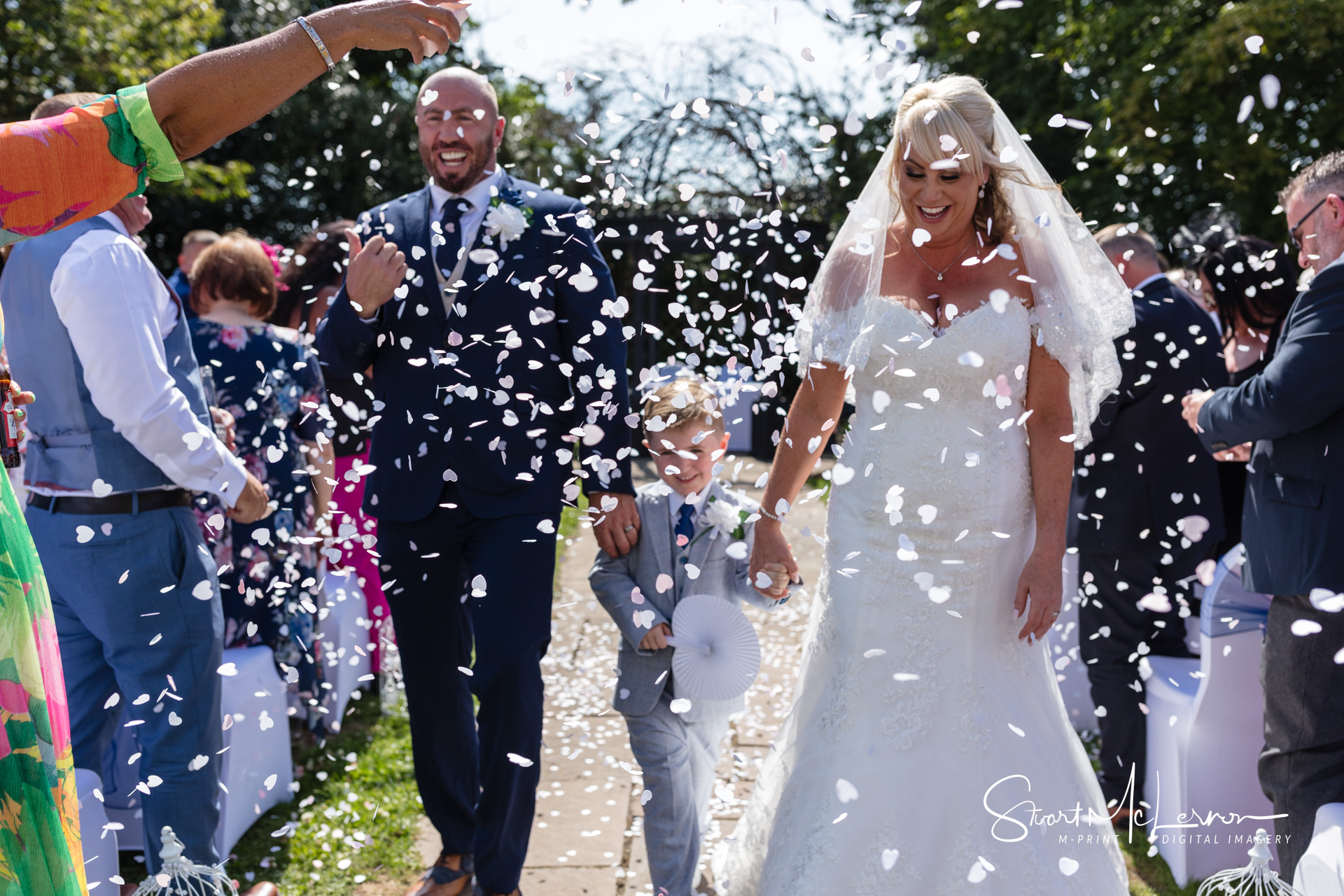 Looking past their levity, you can see how strong the bond between Christy and Ritchie is and their aim was to get hitched in the presence of George, their son, witnessed by family and friends. The day arrived and the sunshine was blazing down on the lawns outside the Craxton Wood Hotel. The guests arrived, cooling themselves with fans kindly supplied by Christy and Ritchie. The scene was set for a tranquil ceremony in front of the gazebo with only one snag – (the flowers were late!) but this didn't cause too much stress and Christy made her way up the aisle into the sunshine towards her groom-to-be.
The vows were exchanged in a heartfelt manner and Ritchie welled up with emotion at one point, but managed to compose himself and finish the necessary words as the rings were exchanged and moments later they shared their first kiss as husband and wife. The wedding register was signed and the couple made their way back down the aisle past their guests under a flurry of confetti.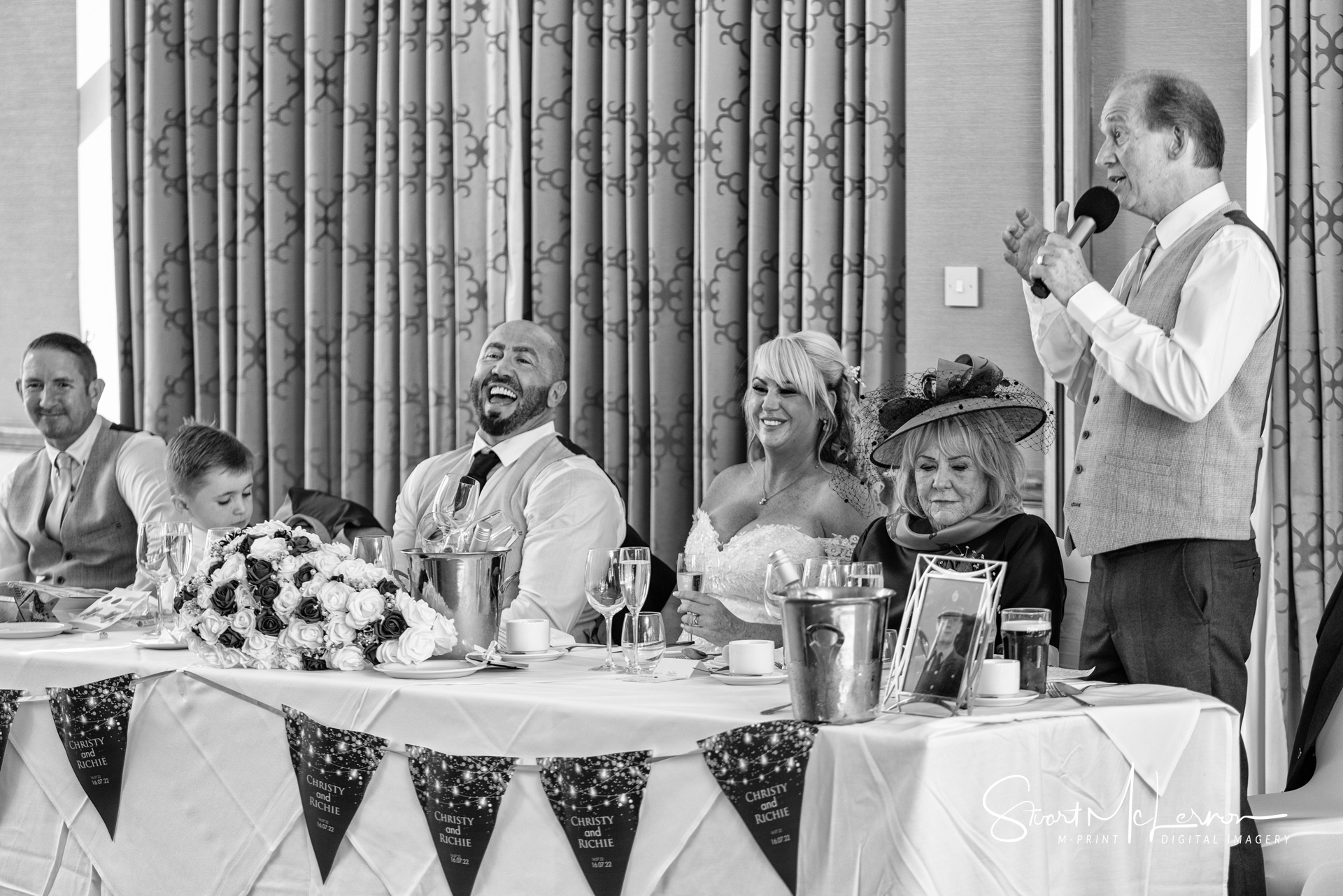 Craxton Wood Hotel Wedding Photographer
Ritchie and Christy had arranged for two magicians to keep the guests entertained while the hotel arranged the tables for the wedding breakfast. These two were skilled magicians and funny people that had the guests gasping with amazement and roaring with laughter. Mealtime arrived and the guests were seated along with myself and Rick before the speeches, which unsurprisingly, were humourous and heartwarming. The newlyweds had given lottery scratchards to each guest at their place and there were a few people who won a few pounds, with the exception of one guest who had scooped a jackpot of £100,000 – on a FAKE scratchcard! The funny side was seen and we left Christy and Ritchie to enjoy the rest of their wedding celebrations. I wish these two many years ahead of joy and laughter.
If you are getting married and looking for a Craxton Wood Hotel wedding photographer, please don't hesitate to drop me a message…